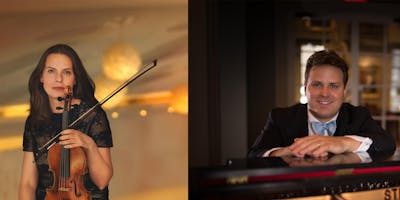 A Musical Journey
Join Berlin Philharmonic violinist, Cornelia Gartemann and "red hot German pianist", Clemens Teufel on Piano for a thrilling concert with masterpieces by Mozart, Beethoven, Chopin, Brahms and Schumann.
This impressive musical journey will take you from the playful Viennese classical period with some of Mozart's and Beethoven's most beautiful sonatas for piano and violin deeply into the Romantic era of Robert Schumann, Johannes Brahms and Frederic Chopin. 
Program
Robert Schumann - Arabeske Op. 18
Wolfgang Amadeus Mozart - Sonata in E Minor for Piano and Violin K304
Ludwig van Beethoven - Sonata Op. 24 "Spring"
--- Intermission ---
Frederic Chopin - Nocturne Op. 9/1 & Etude Op. 25/1
Wolfgang Amadeus Mozart - Sonata for Piano and Violin in B-flat Major K378
Johannes Brahms - Sonata for Violin and Piano Op. 5 in D Minor
German Violinist, Cornelia Gartemann, of the Berlin Philharmonic Orchestra in Germany, has won prizes at various national and international competitions and has received grants from the Jürgen Ponto Foundation, the German Music Foundation (Deutsche Stiftung Musikleben) and the German Music Council. She has appeared as both a solo violinist and in chamber music at concerts and festivals in Europe, the US and Asia.
German pianist, Clemens Teufel, has performed concerts and given masterclasses in three different continents, including Asia, Europe and the US. Highlights of his performing career in the US include the Newport Music Festival, Rockport Music Shalin Liu Performance Center, as well as the Summit Music Festival in New York and many others. Clemens has won prizes in German national competitions as both soloist and chamber musician. In 2017, he released his first album with music by American master composers, Howard Hanson and George Gershwin.