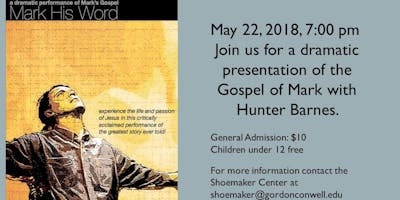 Mark His Words with Hunter Barnes
Join us for a dramatic performance of Mark's Gospel: Mark His Word with pastor and actor Hunter Barnes and experience the life and passion of Jesus in this critically acclaimed performance of the greatest story ever told.
General Admission: $10
Children under 12: Free
Current GCTS Students: Free
Hunter Barnes is the Senior Pastor of Zarephath Christian Church in Zarephath, NJ. He comes with a fresh vision for the congregants to go deep…deep in their relationship with God through his Word, in Community and in Service to the world.
For the past four years Hunter has also been producing a daily podcast called Daily Radio Bible, where listeners can hear the Bible being read daily, followed by a short devotional thought (dailyradiobible.com). Many from various parts of the globe have downloaded this app and have Hunter as their Bible reading coach to read through the Old Testament once and the New Testament twice in a year.
Hunter has a passion for inspiring people to desire the Word of God. He himself has memorized whole books of the Bible and has dramatically presented them as the "Mark His Word" ministry.

The performance will take place in the Kaiser Chapel in the Academic Center on the campus of Gordon-Conwell Theological Seminary. 
"Hunter's presentation of the Gospel of Mark is moving and edifying. It's not too much to say that the anointing of God is on this ministry. Hunter has performed for and instructed my seminary students as an adjunct professor, here at Gordon Conwell"
Dr. Jeff Arthurs
Professor of Preaching and Communication
Gordon Conwell Theological Seminary and author of the book "Preaching as Reminding"