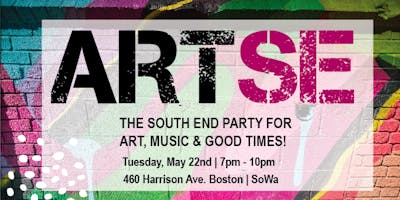 ARTSE - The South End Party for Art, Music + Good Times
                   ArtSE: The South End Party for Art, Music + Good Times!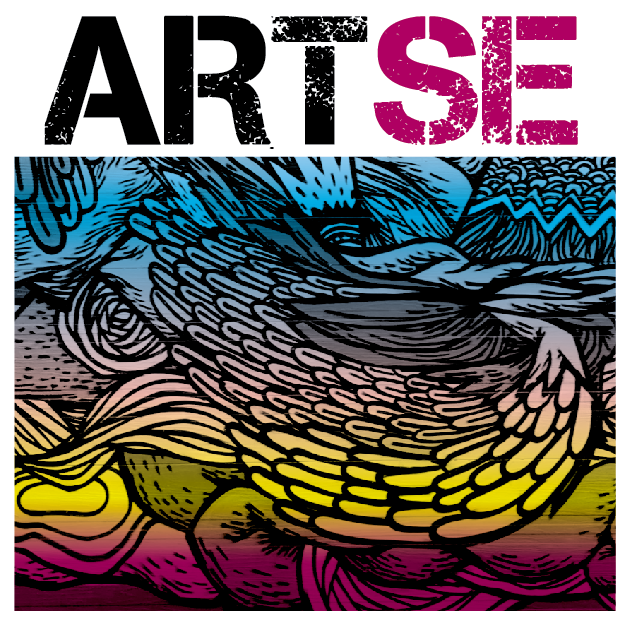 Join us Tuesday, May 22nd from 7pm-10pm for ARTSE, a party to kick off our new public arts initiative. Enjoy cold brews by Lord Hobo, our signature Blue Chair Bay cocktail and bites from an array of neighborhood chefs. 
Music by DJ BraunDapper spinning the best of hop-hop, house, funk and soul.... PLUS live art, an auction by Biderly and a GIANT South End soul train line!  
Your $15.00 ticket includes: 2 drink tickets for Lord Hobo Brewing Co., a signature rum cocktail by Blue Chair Bay, South End bites & live art.
---
BUY ART! Bid online prior to ARTSE at biderly.com starting Wednesday, May 16. Come to the event to see the artwork, meet the artists, and bid live! Featuring some of the city's most influential street and contemporary artists:

Marka27 | Cey Adams | Dana Woulfe | Percy Fortini-Wright | Sneha Shrestha (IMAGINE) | Sophy Tuttle | Cyrille Conan | Damion Silver | Caleb Neelon | Jeff Henriquez | Rob Gibbs | Sagie Vangelina | Curtistic | Thy Doan | Enamel Kingdom | Don Rimx | VYAL ONE | T.j. Oslund | Zen Arcade | Markus Sebastiano | Ge Ortega | Lee Adam Beard | G. Ortiz Photography | Moses Mitchell | Abhi Chandra | Ben McCosh | Allison Bamcat | Wes Niven | and more... 

ARTSE is a Washington Gateway Main Street event brought to you in part by GTI Properties, Biderly, Lord Hobo Brewing Co, Blue Chair Bay Rum, and curated by Street Theory Gallery and Adam Adelson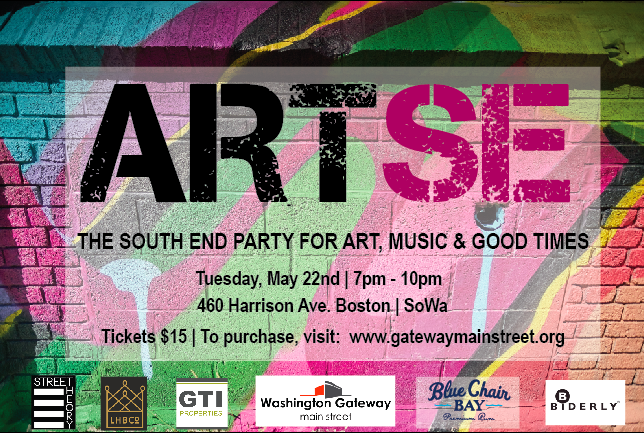 Proceeds will benefit Washington Gateway Main Street's Public Art Initiative designed to bring art of all kinds to our streets & parks!