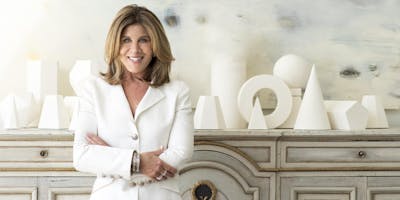 The Paris Apartment Collection with Suzanne Kasler
​A signature in Parisian dwellings, architectural elements are highlighted throughout Suzanne Kasler's new inspired collection, "The Paris Apartment." True to Kasler's style, the collection is a testament to the innate pulse Suzanne has on the design community and retail stores alike; the very design style that earned her a spot on the 2018 AD 100 list.

Dramatic architectural elements, soft curves, reeded embellishments, tailored lines, and edited details define the collection. Each piece embodies current style and the collection serves as the perfect complement to Suzanne's Hickory Chair essentials. Her ability to translate the quality of her luminous design work into furniture has made her collection one of the most successful in the industry. This masterpiece collection is a seamless mélange of details inspired by travel, fashion, history and the dynamic world of Suzanne Kasler.
Suzanne's presentation will delve into what inspired her new Paris Apartment collection and the process that brought it to life.​ Please join us for a luncheon book signing at the Ailanthus showroom, Suite 434, to view selections from the collection in person and meet Suzanne.