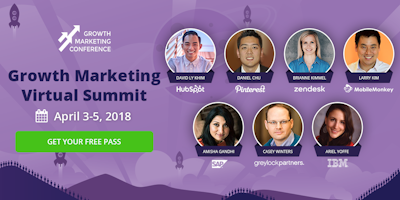 Growth Marketing Summit 2018
Welcome to the world's premier live growth marketing virtual event!
This is your opportunity to learn bottom-line-driving growth strategies and tactics – right from the comfort of your favorite desktop or mobile device for FREE!
At the Growth Marketing Virtual Summit, You'll Hear from Industry-Leading Speakers Like:



Casey Winters, Growth Advisor in Residence at Greylock Partners



Larry Kim, CEO at MobileMonkey



Ken McDonald, Chief Growth Officer at Team Snap



Ariel Yoffie, Growth & Product Manager at IBM



Brianne Kimmel, Growth Marketing/Startup Lead at Zendesk



David Ly Khim, Growth & User Acquisition at HubSpot



Heather Dopson, Enterprise Social Media at GoDaddy



Conrad Wadowski, Founder & CEO at Ops.tv



Amisha Gandhi, Head of Influencer Marketing at SAP



Brian Lischer, Founder & CEO at Ignyte Brands



Daniel Chu, Head of Activation Engineering at Pinterest


In actionable sessions like: 


Your Growth Timeline: How to Successfully Move Through the 3 Big Growth Phases


How to Build a Growth Culture in Your Company


How to Triple Your Conversion Rate by Leveraging Your Competitors' Data


The Early Engagement Tactics That Drive Pinterest's User Retention Success


The Future of Marketing: Facebook Messenger & Chatbots Strategies That Actually Work


How to Hit a Home Run Competitive Brand Audit


The Finishing Touches: Battle-Tested Brand Strategies for Sustaining Long-term Growth


The New CMO Playbook for Running High-Growth Data-Driven Companies


The SAP Secret: How to Run ROI-Positive B2B Influencer Marketing Campaigns


Panel: The Growth Marketing Strategies, Tools, and Tactics of 2018


Panel: How to Build the Ultimate Growth Stack: Marketing Operations Lessons from IBM and Zendesk


How Customer Segmentation Will Save You a Fortune on CAC


Panel: Your 2018 Roadmap to Strategic Affiliate & Performance Marketing Success


Making Customers Behave: Using Behavioral Cohorts to Optimize Conversions


7 Game-Changing Steps to Building A Power Brand


You won't just learn the growth strategies and tactics you need to succeed in 2018 and beyond. You'll also get early access to the Growth Marketing Contest and the official Growth Marketing Conference Community!